Welcome to TURN!
Details

Published on Thursday, 14 May 2015 12:21
Written by F4H TNTMadvic

We are happy to announce that TURN (The Ultimate Racing Network) has been officialy launched and has gone live! Best of the best organized sim racing will take place here, so if you want to step forward and race online in some serious competition to increase your gaming experience while having fun, this is the place to be. With Project Cars arriving, it was time to do things properly and in a more professional way speaking of organized sim racing series, and now all of us will be able to enjoy this at TURN.
TURN will offer endless hours of good racing. Divided in two main categories: Turn Official Series and Community Series. There will be three official series at launch, all of them intially hosted on Project Cars on XBox One. But talking about community events, these will be no normal series at all. All software development used to run their own series will be available for the userbase so they can run they're own series hosted at TURN's site just using a friendly user interface. Users will be able to "define their series name, create a rulebook, schedule events, define their own points scale, set up qualifying (or race without qualifying, if they so choose), manage team entries, adjust the race grid for any penalties or absences, update event results including award penalty points if any should arise, as well as creating their own articles for their series, which can link to their own unofficial series broadcasts or videos…all without needing assistance or an approval process from TURN staff, in any racing game, on any gaming platform."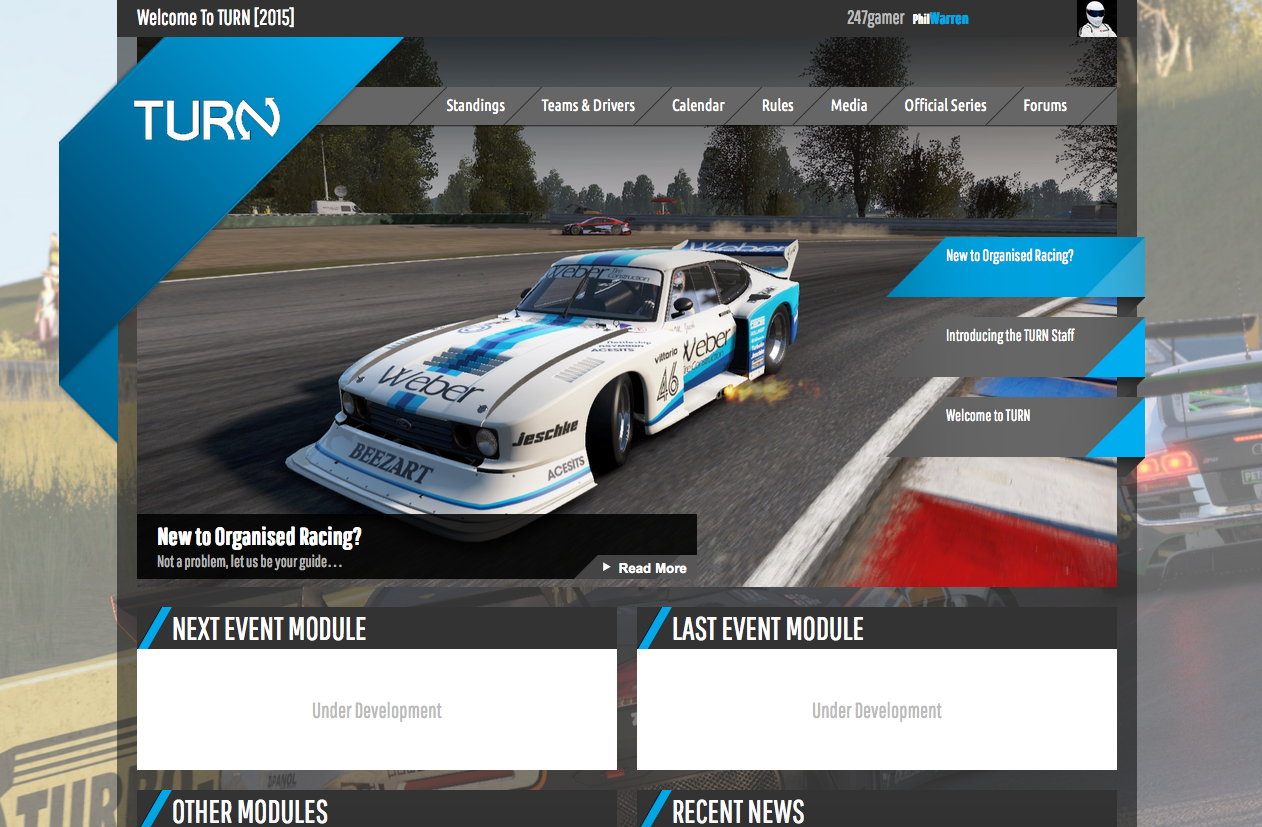 Check their site to get more detailed info about series, teams, drivers or media. Don't forget to check out the forum too! Full of good new and old names from the Xbox LIVE's racing community all over the world. Visit www.theultimateracingnetwork.com.
Details

Published on Wednesday, 14 January 2015 22:14
Written by Tyler
Hello Ladies, Gentlemen, and fellow racers,
A couple years ago, our esteemed former president Chrisupra began to hold end-of-year awards, which provided great banter and praise, as well as it served as a wrap up of the previous year. This year, well, last, since it's 2015 now, was quite the year, and I'm here as the new president to keep this tradition going. So, without further ado, here's the awards for F4H in 2014!**
**Yeah, you're not going to get off the hook that easy. I'm a bit long-winded at times but I feel that this is a good time to talk about the team and give some insight as to what we will be up to this year, so, dig in. Late last summer, Chris asked me about the possibility of having me become the new president of F4H. I was unsure as to what to say about this opportunity at first, and it took a good month or so before I decided to accept this offer. The guys here have provided with me so much, not just the skills to succeed on track, but advice that has helped me in my everyday life, and great friendship. I am truly appreciative for each and everyone of my teammates, and it's a privilege to be the leader of this great club.
One of the things I'd like to do is to thank Chris, our fearless leader of the past five years. Without a doubt, the reason that F4H holds as much clout as it does is because of Chris' efforts as president. He guided us through the best and worst of times. He led his LMP team to back to back victories at the TORA 24 Hours of Le Mans. He is a tuning god that could fix any problem, with any car. On top of all that, he was juggling shifting jobs and trying to settle in a new country. And the greatest thing about Chris is that, regardless of what's going on in his life, he made enough time to keep this team on the right track. I cannot thank him enough, first for the opportunity to join the team in 2012 after the collapse of GLR, next for his guidance on tuning, and now, for his trust to take the reigns from him. Chris, you've left me awfully large shoes to fill, but I will be doing my best to follow in your footsteps. Back to the awards: They are a real thing.Here they are, for real this time-
The Iceman Award
---
This is a prestigious award, given to the driver who was able to perform in the most pressure-filled drives, the guy you could count on when it was necessary. The Iceman of 2014 was Micko, and this should come as no surprise. First of all, he's Finnish, which makes him a shoe-in! Micko came to us this year after a long tenure with VVV. His performances week in and week out in TORA GT Season 12 were always on point and often a podium finisher against extremely talented rivals. Like Mr. Raikonnen, he lets his driving do all the talking for him and the results keep rolling in.
The Top Tuner Award
---
Who's the best behind the wrench? The Top Tuner of 2014 was Chrisupra. Chris' knowledge on automotive physics is vast and only a few messages back and forth can solve most anyone's tuning issues. Even better, when Chris has a few days to work on tunes, they are masterpieces. At the end of last year, Chris and I drove a 2007 Honda Civic Type-R in the TORA 8 Hours of Nurburgring. I had just returned from overseas and only had a few days of preparation. However, Chris' tune was truly legendary. I am normally the go-to for FWD tuning, but nothing could prepare me for how good that car felt on the 'Ring. The car was on rails and not a single person could stop us from taking the win in that event. I can't wait to see what Chris can come up with here in 2015!
Class Clown Award
---
Do I really need to explain this? Everyone's got their funny guy (or guys, in this case). There. Our team has succeeded by not only being fast on track, but by having great relations off track. Many times, the grind of practicing takes a toll on the psyche, and we get into these funks. The Class Clown of this year was Ghost, whose name is also Chris. You may remember a guy by the gamertag of F4H Stuttgart... well, this is the same guy. I don't have all the details, but this name change happened after a night of heavy drinking. I applaud this. Honorable mentions here include Kyle (Krux), Martin (Trash), and Matt (Spartan), and Michael (EagleEye).
Van Gogh Award
---
Not for those that cut off their own ear, instead, who was best in the paint booth? This year, the Van Gogh award goes to Anthony (Lightning). This guy not only has made tremendous progress on his liveries for iRacing, but he is one busy SOB! He has liveries prepared for nearly EVERY single car on iRacing! Our cars stand out on track thanks to him. I'm excited to see what the next year brings and what sort of special projects come along. A special mention goes to Matt and Ash (Carrera) on the Forza side of things. Matt quickly made a name for himself with his Spartan Race themed Corvettes, so we gave him the task designing an F4H 10th Anniversary livery to adorne the TORA GT Corvettes as they clinched the Constructor's Championship in the last round at Circuit Spa de Francorchamps. As for Ash, he always has been a mastermind in the art room. He had one paint for our team that was the favorite of the 2014 TORA 12 Hours of Sebring. He decided to replicate the Rum Bum Racing livery onto our Ford GT and the result was spectacular. I loved that car. Kudos to you all.
Drunken Ninja Award
---
'Nuff said. This goes to Cody (c0dak) and John (bandicoot). Their livers be damned, but the conversations had with these guys after a night out are hilarious. No doubt, if I was asked to a game of beer pong, these guys would be getting a phone call before the rest. These are the guys that could wall bounce a ball blindfolded while getting a BJ. Bless them.
Best Rookie Award
---
Who was the best new member of 2014? "Rookies" here are a bit of a misnomer. Our drivers are some of the most experiences online racers there is, so, rookies in this case only mean people who are new to our team. The standings for this award were too close to separate, so everyone's a winner here. And to be honest, that's a fair judgment. We've talked about how great Micko is, but the others were no slouches either. Michael and Martin were part of that same team that brought home the Constructor's Championship for TORA GT Season 12 with Micko, and Trash had the most clutch drive of the year at Spa to make that happen. Matt joined me in the TCC class at the Pro Endurance VLN, helping us secure 2nd overall with amazing stints. Clay (XessIV) has been a boss behind the scenes making sure we have a place to race, even if his time behind the wheel has been limited. And we cannot possibly forget Ryan (Xyloto), a top contender from the start of his time here at F4H. We are all really happy you're here on our team.
The Sebastian Vettel Team Member Award
---
Thanks again to Dan (Facepalmer) for the inspriation for this award, even though Seb drove like ass this year. This is the one holdover award from when Chris ran this. It's prestigious and who wouldn't want to be compared to a 4-time F1 Driver's Champion? The winner for 2014 was Chrisupra with 94% of the vote. You earned this, buddy. You held the F4H flag high at every event you raced in, through thick and thin. You're one of the all-time greats. Thanks for being you.
The Speed Racer Award
---
Who was the guy that could just have the stars align and hit that mega lap time? In all fairness, I was the recipient of this award, but I think the three tied for 2nd are the folks that need to be talked about. Dario (Bullet), Chrisupra, and Nathan (Rosso) are stupid fast when they have the right amount of time. Dario has been mega fast in iRacing so far in the Global Challenge Series; Chris was only topped by the very best in the business at the Pro Endurance VLN in the Corvette; Nathan is just fast in anything. These three on a team are unstoppable.
The Top Driver Award
---
John apparently claimed he was a top driver one day (why exactly, I don't remember). Since then, he has been THE top driver. Jokes aside, this dude is a top driver by day and a drunken ninja by night. Somewhere the middle, perhaps the mid-evening, he completes some schoolwork, but I don't even know if that's true. He could be a robot. Maybe he's a platypus. Definitely not a walrus.
And that's it for the 2014 F4H Awards. I hope you all enjoyed reading this as much as I had writing this article out. We've got a very promising year ahead with Project Cars FINALLY coming out in March and the newly-announced Forza 6 will drop sometime this year. The future looks bright for F4H, we'll see you on the track!